Wahweap RV Park & Campground
Page, Arizona
Centrally located at Wahweap Marina about ¼ mile from the shore of Lake Powell. Wahweap offers plenty of fun with a wide variety of powerboats and water toys from which to choose. You can also enjoy the restaurant, lounge, Wahweap Grille, Wind and gift shop at the Lake Powell Resort. This RV Park/Campground is also a great place to enjoy the winter solitude of Lake Powell.
Full Hook-Up Sites (139) - Loops A, B, C, D, F
30 and 50 amp service, water and septic
Sites accommodate up to 45' - very limited sites over 70'; only two vehicles per site; some double-wide spaces available
Coin-operated laundry and shower facilities located at the store
Wahweap Swim Beach within walking distance from Campground for swimming. Please keep in mind the pool at Lake Powell Resort is for hotel guests only. 
Free WiFi was installed at the campground. Connectivity varies due to our remote location, usage, weather and location in the park. WiFi is also available in the Lake Powell Resort lobby
139 sites with Full Hook-Ups
Tent Only Sites – Loop 1
36 sites - 27 sites with parking, 9 outlying sites located between 20-80 yards from the parking area. Guests must pack in their equipment. 
Tent or Self-contained RV Sites (112) - Loops 2, 3, 4 
Some sites can accommodate up to a 40 ft. RV, there is limited extra parking space in the campground.
Group Tent Area - Loop G
Sites can accommodate 9 to 25 people or 8 to 10 tents depending on size, per site
Restrooms are centrally located in the Group area 
*All sites include restrooms, picnic tables, fire rings and/or grills.
NOTE: Registration is required for all campers. Check in at the Campground Store for site assignment. Convenience store and gift shop are found at the campground registration office. For late arrivals a map with directions to your site will be posted on door of store. 
Nearby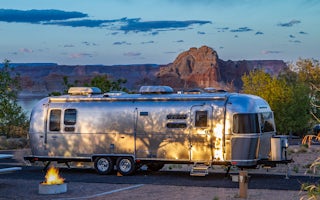 Page, Arizona
A legendary camping experience for vacationers from all around the world is now available at Wahweap Campground in Lake Powell. Airstream...
From $237/night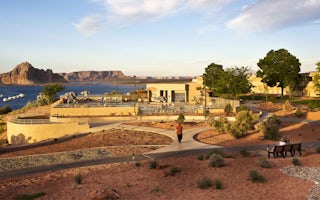 Page, Arizona
Here hotel guests can kick back by the side of the pool and enjoy some of the most spectacular scenery in the West. Take a boat tour, din...
From $93/night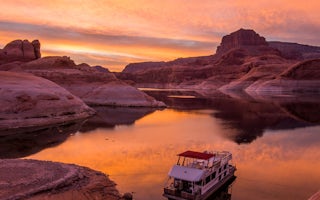 Page, Arizona
Your Home, Away From It All.All houseboats have comfy beds, a great living space, a fully appointed kitchen and a great sound system. The...
From $530/night
See more