Zion National Park, Where Synchronicity and Magic Converge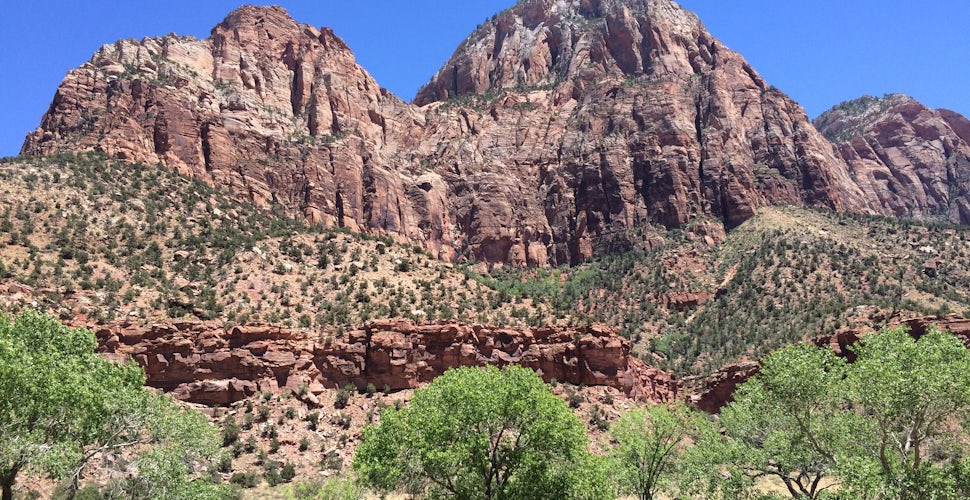 Zion National Park, Where Synchronicity and Magic Converge
"There are two signs of enlightenment, just two indications that a transformation is taking place within you toward a higher consciousness. The first (symptom) sign is that you stop worrying. Things don't bother you anymore. You become light hearted and full of joy. The second symptom is that you encounter more and more meaningful coincidences in your life, more and more synchronicities. And this accelerates to the point where you actually experience the miraculous."
Deepak Chopra
A few years ago, it felt like my world had come crashing down. Every single aspect of my professional and personal world was spiraling out of control, and there was literally no one I felt comfortable calling and asking for help, especially on one particular day in April. I had exhausted my resources and could not ask another friend to listen. I had to let this day pass and trust the feelings were temporary and tomorrow would be a new day, just like it had been on many occasions in the past. I
I had been a founder of a start-up eBook publishing company since 2010. My teammates and I decided to heed the advice of our readers and authors and go to print with our books in June 2015, and in less than ten months we edited, designed and loaded 15 books in print on Amazon while our ebook sales dwindled. My focus as the publisher was on sustaining our bottom line as our revenue seemed to be gravitating towards our books in print. As a sole-proprietor I had been responsible for securing new works, editing, delegating the design, legal. bookkeeping, press, marketing, just to name a few. As an endurance runner, I refused to give up.
I had been living in Park City, Utah since May of 2013 as a single mother of my younger son and had developed a fondness for the seasons and running on the trails in the Wasatch Mountains and Uintah Mountains. Running had been my escape, where I could flee from criticism, self-doubt, and set backs. I absolutely loved to run in nature, and my dream was to find a way to tie in my two passions: running and writing.
When I sit at my dining room table or in front of a roaring fire on my living room couch, I love to write and the words just flow on the screen, just like when I run. It is just me and the trails or me and the words that flow from head to the keyboard and running one foot in front of the other.
With both boys now off at college, I was finding time to explore the national parks of Utah and started to register for destination 50 kilometer races. I could be out on the trails for six to eight hours at a time and all of my worries disappeared and new ideas could be generated.
It was back in November when I was running a 50K on Antelope Island, just north of Salt Lake City that I came up with the idea to write a children's book about the five national parks for Utah in honor of the upcoming 100 year anniversary of the national parks system. Within a month I was sitting with the Director of Marketing for the state and was asking him if the state would partner with me and my company for such a book. He was optimistic and supportive but I knew that there would be a great deal of hoops to go through to partner with the state of Utah so I set off to write my first book since 2009 and immediately asked a young artist if she would like to work on such a project with me. She agreed and I started writing and the words flowed for the first time in nearly seven years!
We had a plan and I wrote about various animals found in Utah and the geology, trying to describe in simple terms such things as spires, hoodoos and arches to our three to eight year old audience. Buzzy the bee would take kids on an adventure through Canyonlands, Arches, Capitol Reef, Bryce Canyon and Zion National Parks. In less than three months we had a draft of our book, Buzzy and the Red Rock Canyons.
Following my near breakdown, I decided to get on the road for a change of scenery with my Jack Russell terrier, Aro. I set my mind on driving four hours to Zion National Park with a preliminary press release and book cover and start hitting the main street of Springdale to gage the interest of gift shops. That is where the synchronicity happened and my first day flowed almost like magic.
There are only two hotels that allow dogs so I called the first, the Driftwood Lodge and made reservations. I arrived on a Sunday night with plans to spend the morning going from gift shop to gift shop. Coincidentally, a new restaurant, The King's Landing, had only been opened on the grounds for one month and it was the same location where my boys and I had eaten six years prior. There is a magical view from the restaurant's outdoor patio, looking into the red rock cliffs of Zion National Park with a full moon rising above. I sipped a glass of wine with my salad and unbelievably delicate salmon and polenta. All of my worries had completely and utterly disappeared, at least for that moment. I was in the flow. I had to remember this feeling because the truth is that is where the magic DOES happen.
The next morning I was walking along the main street in Springdale and my very first gift shop owner listened to my story and about the book. She agreed to take three copies, then the next gift shop owner took six. The young hostess the night before told me to try the Majestic View Inn and they agreed to take 12. I was on a roll, but I was also ready for a run!
One of the servers had suggested a run out of Springdale to the ghost town in Grafton. It was supposed to be 12 miles round trip. I headed out of town about three miles and came to a historic bridge that reminded me of my great grandfather, AC Gilbert who had invented the Erector Set. It was built from the same girders that gave him the idea for his famous toy set. I could feel his presence, encouraging me not to give up.
The road turned to dirt and as I looked out towards the red rock cliffs and canyons, I was suddenly a bit apprehensive and wasn't sure if this was the right thing to be doing alone, but again I felt protected and I thought about the server offering his suggestion. I kept running. I came upon the Grafton cemetery from the late 1890s. The road split and I wasn't sure where to go for the ghost town. Two other travelers were there so they pointed me in the right direction. I ran about another half a mile or so to an area with six abandoned buildings. I had been running much longer than I expected and I needed to get back to my work.
Running twelve miles normally might take me ninety minutes or so and it had been cool enough that I didn't take water with me. I was unprepared which is also not my norm. As I was roaming around the grounds of Grafton which had been the site of some Butch Cassiday and the Sundance Kids series a couple approached me and said they noticed I didn't have any water with me and they offered a bottle of water. I don't accept gifts well, but this one I did and I was hard on myself for not being prepared. I knew I had six miles to return back to the Driftwood Lodge so I gladly accepted their generosity. It was time to return.
The last three miles are on the main road into Springdale and I was now getting very hungry and ready to return to my work again. I was on a curve of the road on the left side and had decided to run on the gravel, instead of the pavement. Something caught my eye shimmering in the gravel. I stopped. It just couldn't be but there was a very shiny nickel and for years I had collected feathers and coins as signs I was being protected, feathers for courage and coins to trust my journey. There were bits and pieces of glass and metal and multiple coins. I surmised there must have been an accident and I decided to pick up the coins but that I would donate them in the jar at the lodge for the renovation of the historic bridge to Grafton with some of my own money.
Back at the lodge I took my travel companion, Aro, out for a quick walk and soon was on my way to the end of the road in Springdale where the theater was showing the National Parks film, narrated by Robert Redford and where I could stroll through the visitor's center book store and see what other books were similar in concept to Buzzy. I asked the theater manager about selling our book there. Unfortunately, she declined. I asked another local gift shop and the local market - they both said no. I kept my head together and asked to speak to the store manager at the Visitor's Center and she was showing interest. I wanted to be cautious about getting too enthusiastic but her encouragement raised my confidence, even for a brief moment. It was time for my second run of the day.
I was going to be driving eight hours to California the next day to meet with members of my publishing team so I had to experience the interior of Zion National Park. I had plans to run to Emerald Falls or Angel's Landing but another shop owner convinced me to take the shuttle bus out to nearly the end of the park and run to Observation Point. Most of the tourist were heading to Emerald Falls, while I was the only bus passenger to go the opposite direction, typical Melissa, follow the road less traveled.
This time I had Gatorade with me, not a map, but it was also quite cool. I followed the trail alongside the Virgin River. It almost dead-ended at the sheer face of the cliffs, but I found a path to the right which led back to the road. I didn't want to be heading further into the park at nearly 6:00pm, nor did I want to be running on the road so I followed the trail back, hoping I could follow the river to the park entrance.
The trail seemed to lead under the road so I was hoping I could run to the top of the road and find the trail along the river again. Within moments of wondering where the trail would lead, a folded map was abandoned in the grasses beside the trail. Just what I needed! I took a few minutes to see how the trail meandered. I had to run along the road and picked up the trail again a bit lower down. I passed one other couple, but no one else was seeing Zion like I was. Soon one mule deer, literally within inches and another and another. They observed me quietly but they didn't flee. By this time my iPhone was completely full of photos and I didn't want to stop my run to delete photos. I gave them their space and privacy. I was a trespasser in their territory, but they seemed to honor me and allow me to pass without a care or concern.
I kept running and soon came to the Angel's Landing trail. This was on my bucket list. I decided to start running up the trail but it was getting late. Angel's Landing is known for its cables towards the top and I really wasn't ready to embark on that last stretch alone. It was time to follow my intuition and the flow of the river back to the park entrance and back to Aro.
Another section followed the road, and this time I was alone on the road, no busses and I could see a dark shadow heading up the opposite of the road. A proud wild turkey! How cool! A car saw that I had stopped and they slowed their speed to see what I was looking at. We gave each other thumbs up, knowing mule deer are a sight to see but a wild turkey so close was even rarer! With a mile to go, a couple holding hands and families with the kids walked along the path from the Visitor's Center. I was alone, as usual, but I was getting more and more used to the feeling of being in the flow when I was alone and I loved that feeling. I wondered for a moment if I would ever find "the one" to join me in "my" flow.
Back at the King's Landing, the owner sat with me as I finished my soft shell crab and glass of wine. He told me he had found a penny and thought of my company name, Lucky Penny Press. He and his wife wanted to encourage me not to give up on my company. I promised him I wouldn't and I also told him I believed he was in for a very successful summer as tourist would be flocking to Springdale for the 100th anniversary of the park system.
I had met new friends. I had run in places I never expected, following the paths least taken. Nature had healed me in so many ways. I had to trust my intuition; that is where is the synchronicity happens. That is where is the magic happens.
We want to acknowledge and thank the past, present, and future generations of all Native Nations and Indigenous Peoples whose ancestral lands we travel, explore, and play on. Always practice Leave No Trace ethics on your adventures and follow local regulations. Please explore responsibly!
Do you love the outdoors?
Yep, us too. That's why we send you the best local adventures, stories, and expert advice, right to your inbox.