Deer Valley's Steeps and Stashes Where Learning Never Ends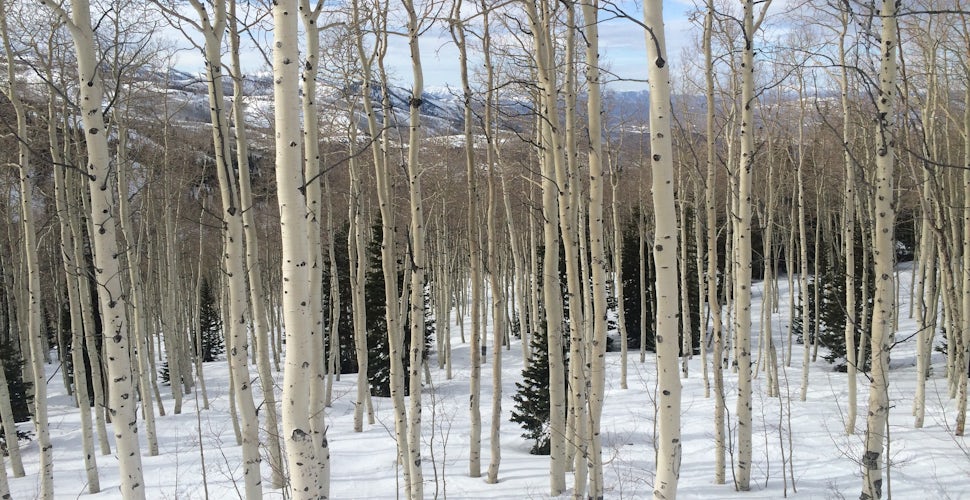 Get out there and take a lesson. Learning never ends.
Last winter I had the opportunity to take my skiing to a new level at Deer Valley, even though I had been skiing for over 40 years. I grew up on the back side of Ski Sundown in New Hartford, Connecticut with a vertical drop of 625 feet. That is where I learned to ski and started racing in the Buddy Werner League when I was seven or eight years old. After 20 years of living in California, I was lucky if I skied once a year. With a recent move to Park City, Utah I was ready to test my limits again.
When I turned 50, I made a commitment to live life testing my abilities and accepting new challenges. Deer Valley's three day program for advanced and expert skiers with Coach Thor as our formidable instructor definitely tested all of our group's abilities, extending us beyond our comfort zones. With near perfect snow conditions, it was time to work on my confidence in the trees, in moguls and on steep terrain.
Day 1: Introductions, Attacking the Moguls, Finding Secret Aspen Skiing
Our group met at the Snow Park Lodge at 8:30am for introductions and then we were off for a couple of warm-up runs and our two groups were divided. I soon learned I would be joining Thor's group with another woman from Pasadena and a father-son from Park City. The small size was just about right. Our instructor focused on safety as his priority, but he promised to challenge us as he raised the bar little by little.
As soon as the groups were divided, we were off to test our abilities and the morning was going to be about attacking moguls, but attacking them with gentleness in a way that taught us to learn to love mogul skiing that would continue to carry-over through the morning and into the afternoon on some of the steepest runs in all of Deer Valley, the chutes.
We learned to find the sweet spot on the top of the mogul, just like a tennis player might hit the tennis ball with that perfect ping on the racket. One of my favorite recommendations that Thor gave us was to find the line. Some skiers might move from mogul to mogul, finding the ones that might be smaller and then following the groves around each one, but we learned to follow the line of the mountain and not to veer off our lines. We kept our bodies downhill. If a mogul was too big, he taught us to cut it in half which might be obvious to more advanced mogul skiers but your program is geared to expert skiers who have not taken the next step to get out of their comfort zone and gain confidence.
Thor did an amazing job having us all take risks little by little which I like to use the metaphor of the chair lift bar or like my great-grandfather, an Olympic pole vaulter and using that metaphor of setting the bar just a little higher with each run of the day.
He emphasized skidding and getting us out of carving our turns. "More skidding. Yes, that's it." He would repeat and repeat until we got the feeling and the motion right.
At lunch in the private Mariposa dining room with the smell of the blazing fire, we all went around the table recalling the primary points we learned about mogul skiing. Our list grew longer and longer. Finding the line. Skidding. The importance of the perfect pole plant. Timing. Accuracy. Rhythm. We all agreed we had already improved dramatically and we were only half way through the first of three days.
Thor, our Norse God of Thunder, our group was coming together like a team as we all supported each other. With the soft snow conditions, he purposely sought mogul runs as we gained confidence before taking us to some of Deer Valley's steepest runs and then ending the day on stashes, the secret tree skiing that mostly locals know about when those powder days come to Park City. Deer Valley has nearly 2000 skiable acres with nearly 50% of that being the tree skiing and hidden gems, like the Daly Chutes. Thor's enthusiasm empowered us to want to test our abilities. We soon learned he loved the chutes.
As the day came to an end, we were at the very top of Deer Valley where we snuck off the main trail through a break in the trees and the sign said, "Open. Avalanche Hazard Area." We were on our way to Deer Valley's most expert area, the Chutes. There are numerous chutes that run off the Daly Bowl and the infamous X-Files. For newcomers to Deer Valley, this three day program proved to be perfect introduction to some of the more inaccessible trails in all of Deer Valley. We would all say good-bye at the base on day number one, knowing that we had improved dramatically and we still have two more days to go.
Day 2: Exuding Confidence
Just like day one, we started the morning, promptly ready to go at 9:00am for a few quick warm up runs before the day's adventure: getting videotaped on moguls. We learned Deer Valley's video man, Von, would spend the morning video tapping our two groups and then before lunch we had the chance to see the results.
We all laughed about our nervous feelings, triggered by high school standardized testing and being called on by the teacher when we weren't raising our hand. One at a time, Von flagged us towards his video camera. Pole plant, skid, mogul, mogul, mogul. I could hear myself thinking out loud, "Melissa, follow your line. Keep moving down the hill, do not break your line. Smile."
The instructors clicked their poles. We each smiled and joked after each video tape session. We were gaining confidence mogul by mogul. We went through four sets of taping on one of Deer Valley's black diamond trails. We had time for a fast run before heading to the video taping cabin to watch ourselves. Von had skied on ahead to upload our video tapings.
We watched our mighty leader attack the moguls as he reminded us of all of the key elements. He complimented each of us, but also critiqued our stances or pole plants, that we would continue to work on later in the afternoon. Then it was time for lunch again in the Mariposa Room, a perfect location to escape the intensity of our lessons and time to enjoy our group's company.
Soon we hit the slopes again. Thor continued to challenge us with hidden tree runs and again testing us on the variety of chutes that lined Deer Valley's upper slopes. Personally I had never worked harder on my skiing and never imagined after 40 years of skiing that I could improve as much as I did after just two days and we still had day three to go.
Day Three - Battling the Weather and Finding the Stashes
As I drove to Deer Valley from my neighborhood nearly 12 miles away, I wondered what the weather conditions would bring with the little rain sprinkling at my house. We were all determined to experience another day with our formidable instructor. The weather tested us. It was hard to predict what the weather would be like in Park City at varying elevations, but almost always if there is rain at 6000 feet, then there is snow above 8000 feet and there was! Snow and wind greeted us and we were off to face the elements. With over 20 plus years at Deer Valley we trusted Thor to take us through the trees and out of the elements. The final day was about using the confidence we had gained to play.
Overall, the three days of Steeps and Stashes were an incredible experience, mostly highlighted by our instructor's patience as he watched us take risks that we would not have normally done on any given ski day. We played and worked exceedingly hard amongst the trees and chutes until we were exhausted and exhilarated all at the same time. It's truly amazing how much improvement can happen when one really sets one's mind with determination and with a willingness to take risks and to challenge oneself to experience steeps and stashes in a safe environment. It's true, for sure, that learning never stops if one keeps an open mind. Our entire group had improved and gained confidence in our abilities more than we could ever have imagined.
We want to acknowledge and thank the past, present, and future generations of all Native Nations and Indigenous Peoples whose ancestral lands we travel, explore, and play on. Always practice Leave No Trace ethics on your adventures and follow local regulations. Please explore responsibly!
Do you love the outdoors?
Yep, us too. That's why we send you the best local adventures, stories, and expert advice, right to your inbox.