Sand Gulch Campground
Cañon City, Colorado
The Sand Gulch Campground offers 16 sites. It is set in a low area, near an open meadow and the Sand Gulch Climbing area. It is open year round. Fee: 7$ individual, and 14$ group site. No reservations; first come, first served. Bring your own water. Elevation is 6,450 feet. Sand Gulch Campground is a popular camping option for visitors traveling along the byway and climbing at Shelf Road. The campground facilities include picnic tables, fire rings and tent pads. Individual campsites are available and the group campsites accommodate up to 20 people. All sites are first-come, first-served. For more information, please contact the Royal Gorge Field Office.
Nearby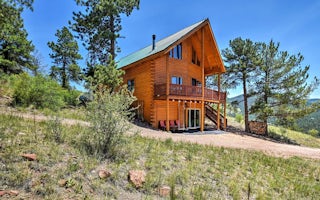 Cripple Creek, Colorado
Enjoy spectacular views of nearby Pikes Peak and the Sangre de Cristo 14,000 peaks from this secluded 3BR/2BA hideaway.Thoughtfully appoi...
From $212/night
See more
Unfortunately, we don't have up-to date pricing data for this listing, but you can check pricing through Recreation Gov.
Book Now