Richmond North / Kings Dominion Koa
Doswell, Virginia
At this newly updated campground, you'll find all the comforts of home - and more! Deluxe Cabins can accommodate groups up to 10, with two full bathrooms, central heat and air-conditioning, high-speed Wi-Fi and four flat-screen TVs complete with DIRECTV. RV Sites can easily handle everything from pop-ups to big rigs, some under a canopy of tall pines. A pleasant stroll around the grounds leads you to a well-stocked camp store, a volleyball court, an outdoor picnic pavilion and a large swimming pool. Explore nearby Richmond or take advantage of the free shuttle to Kings Dominion, one of the state's top attractions. The theme park has something for everyone: Daredevils get their fix on thrill rides, younger kids enjoy Planet Snoopy's attractions, and the whole family can cool off at Soak City. You'll also find on-site shopping, dining and live entertainment. Pool: Memorial Weekend - Labor Day Weekend. Max pull thru: 70 feet.
Nearby
Richmond, Virginia
Fresh from the pages of a design magazine, this 1BR luxury apartment presents an upscale retreat in the heart of downtown Richmond. Highl...
From $110/night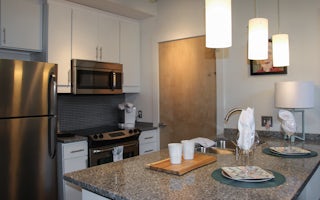 Richmond, Virginia
Impeccably styled and appointed with high-end finishes, this 2BR/2BA apartment offers an upscale retreat in the heart of downtown Richmon...
From $110/night
See more
Unfortunately, we don't have up-to date pricing data for this listing, but you can check pricing through KOA Kampgrounds.
Book Now