Big Rock
Lincoln, New Hampshire
Overview
Big Rock Campground has 28 individual wooded sites, each with a picnic table, tent pad and turnout for parking. Eight sites share a common parking area, while most other sites have suitable parking space available for small trailers and motorhomes. Water, electrical and sewage connections are not provided. Campsites are available on a first-come, first serve basis and reservations.
Recreation
A variety of recreational opportunities exsist nearby which include; swimming, fishing, hiking, picnicking, sight-seeing and pleasure driving.
Facilities
 Vault toilets.
Natural Features
The name "Big Rock" was dervied from a large prominent rock which is visable shortly after entering the campground. Big Rock campground is a developed recreation area administered by the USDA Forest Service. A fee is charged for the use of this area and is collected through a self-service pay system. The campgrounds are conveniently located near Interstate 93 in the heart of the White Mountain National Forest on the scenic Kancamagus Highway. 
Nearby Attractions
1. East Branch Pemigewasset River
2. Upper Lady's Bath
3. Kancamagus Highway
4. Otter Rocks
5. Greely Ponds Scenic Area
6. Franconia Falls
7. Black Pond
8. The Flume
9. Indian Head
10. The Basin
11. Franconia Notch
12. Cannon Mountain Tram
13. Lost River Road
14. Kinsman Notch
Nearby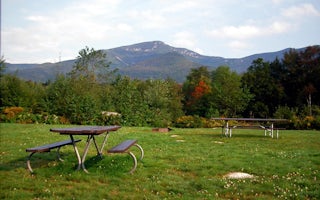 Tripoli Road
Overview Osceola Vista is a popular spot for group camping and is located near a host of outdoor activities, including hiking, mountain b...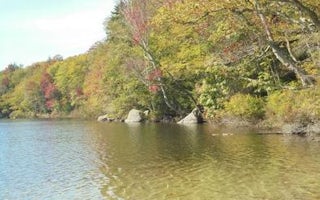 Woodstock, New Hampshire
Overview Off the beaten path, Russell Pond Campground is nestled into the hillside overlooking Russell Pond, a popular boating and fishin...
See more
Adventures Nearby
The Hancock trailhead is located at the infamous hairpin turn of the Kancamagus Highway in the White Mountains. The trail itself crosses the road and starts at 2000 feet of elevation on the Hancock Notch trail. It remains fairly flat for the first...
The trailhead is approximately eight miles from Thirteen Falls campsite. Dogs are allowed on this trail if kept on leash. Be aware of river crossings - either bring water shoes, or prepare to take your boots on and off several times.
Park at the Lincoln Woods Visitors Center off the Kancamagus Highway where the Lincoln Woods Trailhead begins. Because of such a long hike, it's best to start at daybreak, or as early as possible to make it back before dark. The trail starts at th...
Unfortunately, we don't have up-to date pricing data for this listing, but you can check pricing through Recreation Gov.
Book Now