Sheep Pass Group
Unnamed Road
Overview
Sheep Pass Group Campground is centrally located within Joshua Tree National Park in Southern California and is easily accessible to hiking trails and rock climbing routes. It is one of three group campgrounds in the park. Towering rock formations and uniquely-shaped Joshua trees surround the facility.

Travelers who enjoy warm, dry winters flock to Joshua Tree from October through May, when temperatures hover in the 70 to 90-degree range during the day and drop to a 40 to 60-degree range at night. Summer is the park's off-season due to the uncomfortably-high desert heat. Sheep Pass is at an elevation of 4,500 feet and has a mix of both sun and shade.

Recreation
Sheep Pass is very close to many hiking trails, popular rock climbing routes and a central location for sightseeing within the park.

Facilities
There are six group sites within the campground. Electrical hookups and drinking water are not provided.

Natural Features
The distinctive shape of Joshua trees and the huge rocks that surround them draw tourists and scientists alike to the national park.
Joshua trees are a member of the yucca family that have long evergreen leaves, shaggy bark and bunches of white flowers that bloom in spring. The rocks were formed by volcanic activity millions of years ago and have been exposed and shaped by wind and water over time. They brighten with soft pastel hues in the morning and evening sunlight and glow with campfire light at night.

Visitors may want to keep their eyes out for typical desert inhabitants such as lizards, rattlesnakes, scorpions, ravens, squirrels, coyotes and desert tarantulas during the cooler months of the year. Bobcats and mountain lions do live in the park, however they are rarely seen near humans.
Nearby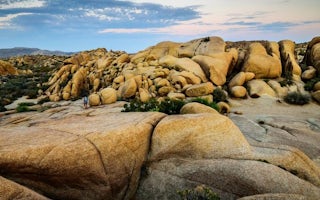 Unnamed Road
Overview Jumbo Rocks Campground lies amid the huge, steep rock formations for which Joshua Tree National Park is known. Close proximity t...
From $15/night
Twentynine Palms, California
Overview Cottonwood Campground is one of the best places in Joshua Tree National Park for stargazing and wildflower viewing. Easy access ...
From $20/night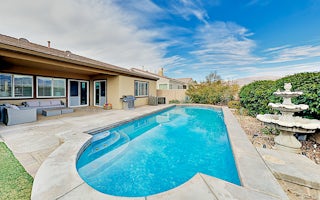 Indio, California
• TurnKey Vacation Rentals verifies this home is professionally cleaned with products approved by the EPA for use against COVID-19, and o...
From $330/night
See more