Rachel Lane Getaway
Waterbury, Vermont
Private, Mountain view, camping in Vermont!
Serene, mountain-view tent site located on 10 private acres with pond near hiking trails. Feel as though you are miles away from society on a private road, yet 5 minutes to all Waterbury has to offer (restaurants, breweries, supermarkets, fuel, mountain biking, hiking, etc.) Located a mile away from the free boat access at the Waterbury Reservoir. Swim in our spring-fed pond, hike nearby trails, and enjoy the views. Note: IF USING A GPS, PLEASE ENTER 2069 BLUSH HILL RD WATERBURY VT O5676. OUR PHYSICAL AND 911 ADDRESS IS 149 RACHEL LANE WATERBURY VT 05676.
When you arrive, please park behind the red camper. This way, the trash and deliver trucks can use the roundabout. The site is a short walk past the pond on the left. Follow the trail past the pond, and turn left before you get to the trailhead in the woods.

PLEASE NOTE: Firewood is not included in the cost of this campsite but must be added on as an "extra" prior to checkout if you intend to use the firewood located on site. PLEASE PAY FOR FIREWOOD. THANK YOU
Nearby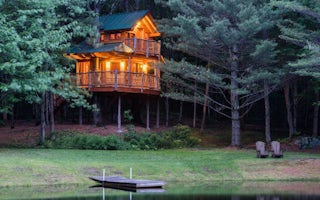 Duxbury, Vermont
Start at the steps that wind all the way to the top of the Magical New England Treehouse. As you make your way, step by step, take in the...
From $550/night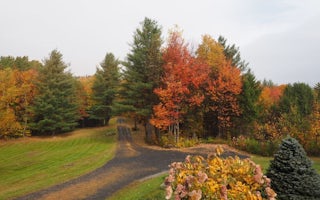 Duxbury, Vermont
Make yourselves at home and enjoy the peace and serenity of our secluded property. With 4 luxury guest rooms and magical 2-story treehous...
From $1,076/night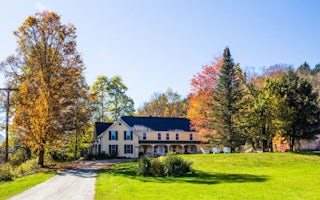 Waitsfield, Vermont
Come stay on the Farm and experience what life is like when you take your foot off the accelerator, every day is a good day to be here. T...
From $800/night
See more
Adventures Nearby
5.0
4.2 mi / 2263 ft gain
Mt Hunger stands at 3540 ft and face Vermont's tallest mountain, Mt Mansfield. At 45 min drive from Burlington, this is a challenging out and back hike.  The views it offers and the waterfalls you will find along the path, makes it a good alternat...
Stowe Pinnacle Trail is a moderate workout with high reward. After a continual uphill climb, you will reach scenic views from the summit of the valley and Mt. Mansfield.
4.8
6.8 mi / 2600 ft gain
You'll begin your Monroe Trail hike at approximately 1500', parking in one of three designated gravel lots along Camel's Hump Road in Duxbury. This trail is 6.8 miles round trip, and gains approximately 2583' in elevation. It is located on the e...