Pasture Paradise Camp At Parkwood Farm
Waterville, New York
We are officially CLOSED for the season. THANK YOU to all of our 2020 campers...we'll see you in 2021! Email us at parkwood.farm.ny@gmail.com and follow us on Instagram @parkwood.farm.ny!
Parkwood Farm welcomes you to our secluded campsite, Pasture Paradise Camp. We are currently closed for the 2020 season and will reopen in May 2021. Check our Instagram feed for details and to see the site improvements we have planned for 2021!! We run a working sheep farm located in central NY, far enough from civilization to see the stars at night, but not so far that you can't easily access all that our quaint rural towns have to offer.

Enjoy the tasty treats of the Waterville Standard Bakery about a 5 minute drive away, before exploring the Brookfield trail network on foot, bike or horseback. A beautiful hike that leads to waterfalls is at Chittenango Falls State Park only 35 minutes away. If a slower pace is more your style, peruse the many local antique shoppes or immerse yourself in local history at the Waterville Historical Society. There is something for everyone in central NY!
Nearby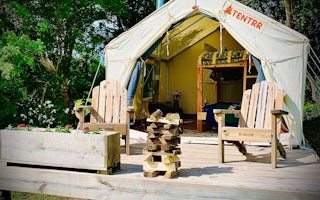 Munnsville, New York
Emerald-View Farm campsite is located in Madison County NY, nestled into the hillside overlooking the Stockbridge Valley region. Emeral...
From $100/night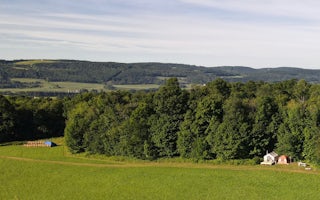 New Woodstock, New York
This campsite is private and quiet with amazing views. There is a stream with a beaver pond and a farm pond for fishing. Walking trails...
From $120/night
Holland Patent, New York
A private little campsite in breathtaking upstate New York equipped with a beautiful 4 acre pond right on the property! Sit back and cast...
From $120/night
See more