Naughty Pines
ELLIOTTSVILLE Township, Maine
Maine mountains and wilderness escape. Relax and unwind among birch and pines in a private campsite along pristine Wilson Stream.
Come to where the pavement ends and the wilderness begins!

Enjoy picturesque cascades a short walk from camp, or spot a moose while day hiking the Appalachian Trail or Borestone Mountain.

Nearby Monson offers shops, galleries, a museum, and restaurants, including Spring Creek Bar-B-Q ( voted the best BBQ in Maine) and fine dining at the Quarry. ATV and boat rentals are available just a short drive north to the Moosehead Lake region or spend the day canoeing or kayaking in one of the many lakes and ponds in the area.

Whatever your pleasure during your camping adventure, evenings bring a chance to refresh and recharge by a cozy campfire under the stars, and to be lulled gently to sleep by the sounds of wildlife along Wilson Stream.
Nearby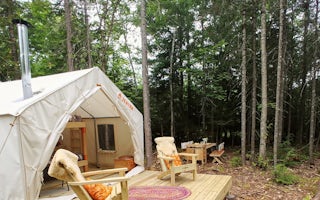 Kenduskeag, Maine
This picturesque site is located just outside of Bangor on a historical farm. Appreciate what nature has to offer, as you hike the trails...
From $100/night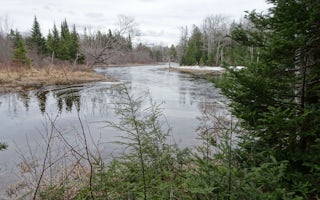 Bradley, Maine
Campers! Come enjoy your own private campsite river getaway. With nothing but you, the river, and the beavers, this is the perfect retrea...
From $100/night
See more
Reviews
Rate this Lodging

No thru hikers welcome!
The owner, Barry Knight, left very disparaging comments about thru hikers on a hiker Facebook page. I hope hikers steer clear of this place.
1.0