Fredericksburg, Texas Koa
Fredericksburg, Texas
Located in the heart of the Hill Country, this beautiful KOA is within a few short miles of the area's best attractions. Exclusive shopping, art galleries, elegant dining and the famous National Museum of the Pacific War await you in Fredericksburg. The town has been featured in national magazines for its historic architecture, German culture and heritage, and renowned festivals. Luckenbach, famous for its live country music, is 4 miles away. The Wildseed Farms and Fredericksburg Trade Days, a 350-vendor monthly flea market/collectibles shopping experience, are both within 2 miles. You'll find many award-winning wineries with tours and tasting rooms close to this KOA. After all the activity, return to your serene campsite - surrounded by grand old oak trees - and rest up for the next day's fun! Pool is open as weather permits. Pool: May 15 - October 15. Max pull thru: 100 feet. Your hosts: Randy and Lisa Snapp.
Nearby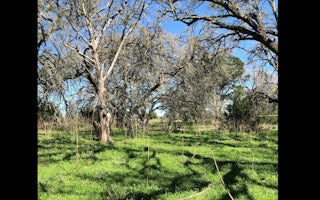 Fredericksburg, Texas
Primitive campsite on 7 acre campground, with outhouse (shared with other camp sites). Stands of oaks, ancient cedars, native grasses and...
From $55/night
Fredericksburg, Texas
Weather permitting, we have a beautiful front porch with rocking chairs to relax or you can enjoy our Adirondack chairs around the fire c...
From $268.50/night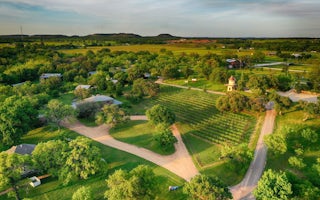 Fredericksburg, Texas
At Barons CreekSide, you'll be warmly welcomed by the sound of the creek drifting gently through the heart of the property. As you walk t...
From $284/night
See more
Adventures Nearby
This drive is good for all skill levels and ages, and provides opportunities for birding, photography, and wildlife viewing. Willow City Trail is near Willow City, Texas. Go when the bluebonnets are blooming! 
To access the trail, park off of Flat Rock Creek Road (see map). Trail is accessible from January to October. You can make it a partial out-and-back if you're not up for the whole 27 mile loop. 
About 45 miles northwest of San Antonio is Flat Rock Ranch. The ranch has 1300 rugged acres that have been in the same family for over 100 years. They raise Black Angus cattle and Angora goats, in addition to building a 27 mile, single track trail...
Unfortunately, we don't have up-to date pricing data for this listing, but you can check pricing through KOA Kampgrounds.
Book Now