With full time jobs, it's no secret that we do our best to fill every available weekend with an adventure. One of the nice advantages with our recent move to the Bay Area is being just four hours from many of our favorite destinations in the Sierras. However, this time we felt the urge to visit a new destination, and the idea of Crater Lake kept bouncing into our conversations. After much deliberation, and just a few days to plan, we pulled the trigger and decided to head north to Oregon.
Photo: Julie Boyd

GETTING THERE
From the South Bay, Crater Lake National Park is 450 miles and roughly 7 hours away. I'll be honest, the first chunk of the drive is pretty boring with not much to see. Near Redding, the scenery starts to improve a bit, as glimpses of the snow-capped peaks of the Cascade Range come into view. The 5 freeway becomes infinitely more tolerable once Mt. Shasta enters the scene in all its splendor.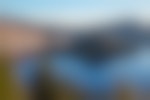 Photo: Julie Boyd

THE DRIVE OF DOOM
We arrived at Crater Lake National Park in the late afternoon. This was a mistake. While we saw a few cars on our initial drive into the park, the moment we passed the Steel Visitor's Center, we were immediately stuck in traffic. From that point, it took us over an hour to go just three miles to the top, which as we expected, was packed. The good news is, once you get past all the initial cars looking to park in the first available space, there is a fairly substantial amount of parking as you drive closer to Crater Lake Lodge. The lodge is also one of the few places where cell service is halfway decent, and is home to significantly less crowded restrooms than the Rim Village Cafe and gift shop.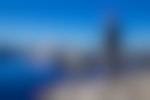 Photo: Julie Boyd

A MOSQUITO SUNRISE
After a less than restful night's sleep, we awoke early to get a jump on our day and to catch the sunrise. Julie grabbed her gear, and we made our way into the crisp, morning in search of the perfect spot to set up. While we had anticipated a few mosquitoes, what we received was significantly more than we bargained for. Almost the moment we stopped, the mosquitoes began to swarm, particularly Julie who seems to set off bells in their tiny, bug minds. While the bugs were terrible, the views were stunning.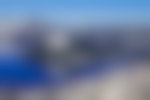 Photo: Julie Boyd

AN EXPLOSIVE HISTORY
Crater Lake was formed nearly 7,700 years ago when the volcanic eruption of Mount Mazama caused its caldera to collapse leaving a jagged surrounding to the lake. Rain and snowmelt led to the creation of the lake as there are no rivers flowing to or from Crater Lake, and the lack of pollutants makes the water some of the purest in the world. At 1,943 feet, it is the deepest lake in the United States and it's famous blue water along with the aptly name, Wizard Island, on the west end are some of it's most recognizable features.
We had hoped to visit Wizard Island as there are boat rides that drop you off and allow you time to explore, but the tours were not yet running for the season.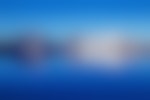 Photo: Julie Boyd

CRATER LAKE RIM DRIVE
Having had our fill of mosquitoes and eager to beat the crowds, we jumped in the car to drive the rim of the park. Even in summer, with bright blue sky, there was still plenty of leftover snow, which meant we wouldn't be able to complete the entire drive due to road closures. Undeterred, we began our drive, stopping at Discovery Point, The Watchman, Merriam Point, and Skell Head. At Skell Head, though we secretly hoped we might be able to get through, the remaining drive was closed, so we turned around and headed back to the Rim Village.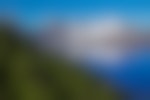 Photo: Julie Boyd
Before leaving the park, we were sure to stop at the Steel Visitor's Center for our National Park Passport stamp and a t-shirt for my growing collection. We definitely loved visiting Crater Lake, but wish we had more time to fit in a hike or two. The next time we visit, we might opt for winter when the crowds are smaller and the bugs are still hibernating.
Published: November 2, 2017

Storyteller
Julie & BrianStoryteller
A photographer and writer with full time jobs and a passion for travel. We spend most of our free time exploring our native state of California, while dreaming about and planning our next adventures abroad. www.boundt...
Follow
Please respect the places you find on The Outbound.
Always practice Leave No Trace ethics on your adventures. Be aware of local regulations and don't damage these amazing places for the sake of a photograph.

Climbing in 18-Degree Weather to Shoot the Sunrise
Vantage, Washington
One of the things that I love about photography is how the quality of light can make or break a photo. When shooting outdoors it is those early hours in the morning that I love the most.
Our Hike to Angels Landing: Dangerous? Maybe. Amazing? Definitely.
Angels Landing, Utah
Three weeks before my sister turned 24 she texted me to ask if I wanted to go on a trip for her birthday. She wasn't sure where she wanted to go but she knew she wanted to be outdoors.