Cheap Outdoor Gear for the Frugal Adventurer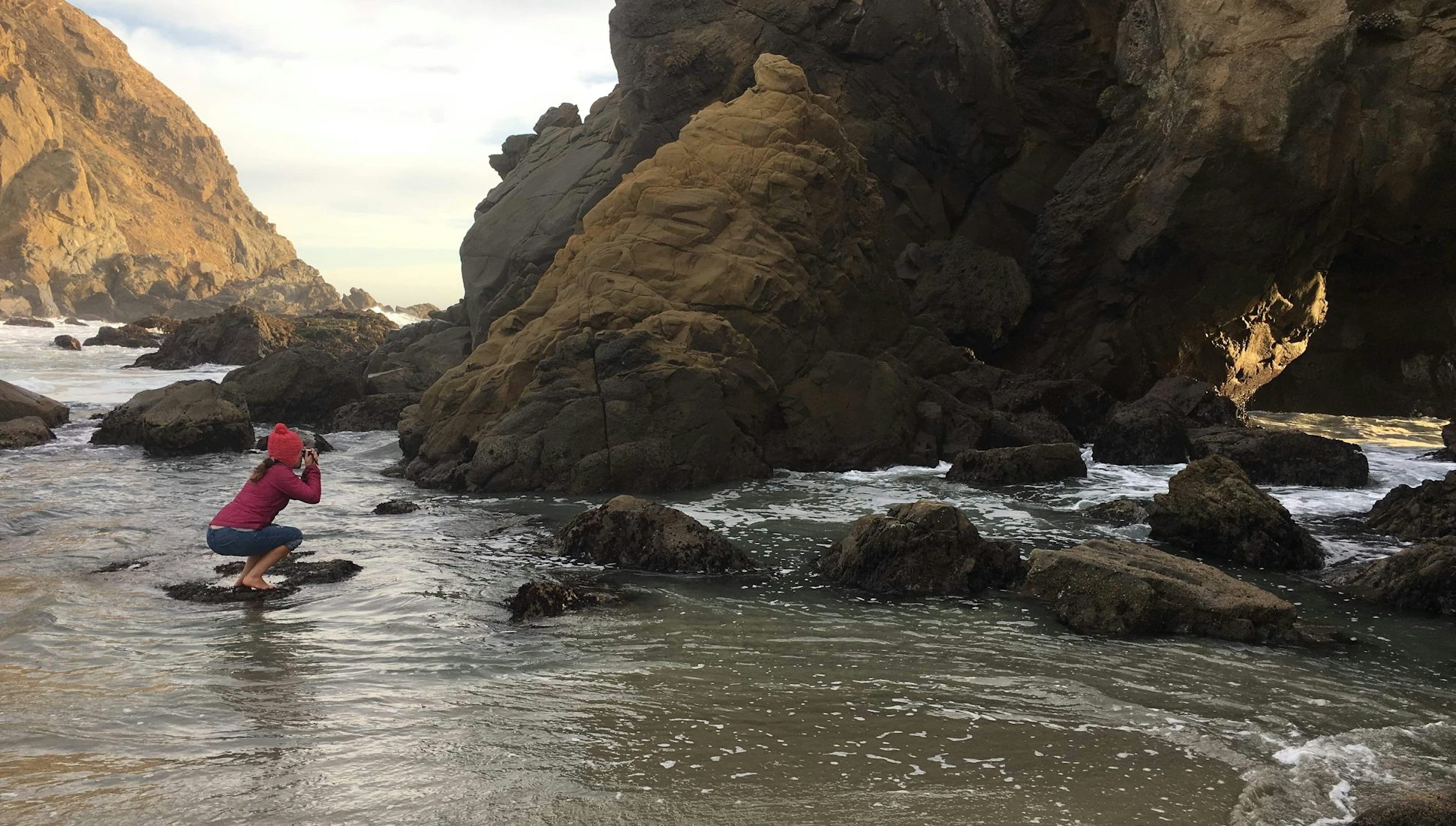 Gear hacks that will save you money
"The habit of saving is itself an education; it fosters every virtue, teaches self-denial, cultivates the sense of order, trains to forethought, and so broadens the mind." —T.T. Munger
Shopping for outdoor gear is a steep learning curve. We are all guilty of using makeshift hiking gear to 'get our adventure on' when we are first starting out (seriously how many of us have hiked with a school backpack and tennis shoes?) and over many trials and errors we eventually decide to invest our heard-earned cash on appropriate trail gear. But let's be honest, good quality outdoor gear can burn a hole through your wallet and how much money do you seriously have to spend to go for a walk outside?
I mean after all, we are literally paying the big bucks to sleep on the ground in the outdoors; it is pretty crazy if you think about it.  In my opinion, it is crucial to invest in a proper shelter, sleep system and backpack and any technical gear used for mountaineering and rock climbing. Oh and shoes, let's not forget the importance of a good pair of hiking boots. Other than that, I buy the rest of my outdoor gear on the cheap and even the above-mentioned necessary items can still be purchased for a fraction of the retail price. High priced big ticket outdoor gear can ALWAYS be bought on sale or purchased gently used for a fraction of the retail price. Even the nicest sleeping bags, pads, tents, crampons, and trekking poles do go on sale.
I refuse to pay $20 for a pair of socks, I do not need a fancy overpriced pre-made first aid kit, I wear bright colored mismatched clothes because they are always on clearance, trash bags are magic in the outdoors, thrift stores are my jam, REI is not the "end all be all", and duct tape fixes everything. 
To be honest, the only way I will ever pay full price for an item at REI is if my dividend rewards will be higher than what I will save on the sale price (more about dividend hacks later). Even in real life, you can find me knee deep in the clearance racks, scouring thrift stores and always bargain hunting because why would I pay full price when I can save my money to put towards a plane ticket, stock investments, or another fabulous adventure? Sorry, but people who pay full price for things on the regular are not the brightest crayons in the box, regardless of their annual income.
Buy all your odds and ends at Wal-Mart
Disclaimer, Wal-Mart is one of the worst places on earth and I try to limit myself to two shopping trips there per year and reward myself with a few glasses of wine after. However compared to all the other discount stores, Wal-Mart has a pretty impressive outdoor section and their prices cannot be beat. Hand warmers, toe warmers, mosquito repellent, whistles, straps and cords, camp soap, disposable rain ponchos, camp showers, and all the first aid odds and ends such as tweezers, small scissors, bandages, emergency blankets, instant ice packs, lighters, ibuprofen, and Benadryl are all cheaper at Wal-Mart. There is no reason to purchase these items at fancy outdoor stores or drugstores as the price markup is astronomical and most of the items serve a single use purpose. For tips on making a personalized medical/emergency kit check out a previous blog post.
Trash compactor bags can work wonders
Trash bags are multifunctional and I always recommend bringing at least 2 on every backpacking trip or camping trip. Trash bags can work as a makeshift pack cover, a poncho, and a pack liner and can be used to store your boots during the night. Whenever I have to hike in the rain, I line my pack with a trash bag to protect my clothes and sleeping bag from getting wet as sometimes water still seeps through my pack covers. Trash compactor bags are a bit more expensive than regular trash bags however they are much more durable and will serve you better in the backcountry compared to regular trash bags (and are still cheaper than ponchos and pack covers)
DIY when possible
I am not a DIY-er, I can barely draw a straight line, let alone make something functional for the outdoors however there are some great DIY hacks that I have come across that will save you big bucks.
DIY stoves: A very popular DIY project among long distance hikers is crafting an extraordinarily cheap alcohol stove out of a cat food can or soda can.

DIY footprint: Not interested in dropping big cash on a footprint for your tent? Craft a cheap, but durable version out of a sheet of Tyvek.

DIY duct tape roll: Why pay for overpriced small rolls of duct tape at REI when you can cut pieces of regular duct tape and attach them to a hotel key card to make your own "duct tape roll"

DIY toilet paper: Use an old bandana as your pee rag instead of buying (and packing out toilet paper, better for the environment, lighter weight and lighter on your wallet)
Ditch the overpriced Body Glide for chaffing and blister prevention and use petroleum jelly instead
I use CVS brand petroleum jelly as a lubricant for blister prevention on my feet after discovering how much cheaper it is compared to the fancy name brand chaffing gels and creams that are on the market. I store it in a tiny travel sized container in my pack to cut down on the weight and bulkiness of the original container.
No pair of socks is worth $20
I get it, some people swear by certain brands of socks that cost upwards of $20 a pair; to be honest, that is just ridiculous. Wool socks are crucial but there are plenty of brands that are much more affordable than those you will find at REI. My favorite wool sock brand is People Socks, which can be purchased online only, run about $9 per pair and last forever. I have worn these on long distance trails, during hail, rain and snow storms, on backpacking trips, on ski trips, and on mountaineering adventures and they keep my feet comfortable and blister free. I also have purchased wool-hiking socks at discount stores such as Home Goods aka TJ Maax, Marshalls and Ross for $8-$10 a pair. In terms of sock liners, I honestly have found that the REI branded sock liners are the best quality and most affordable and I always purchase them on sale or marked down at the REI online garage outlet.
Winter accessories will not make or break your outdoor experience, so they shouldn't break your wallet
I struggle with finding warm hats that cover my ears and don't make my face itch so unfortunately I usually go with bigger name brands such as North Face or Patagonia however I always score these warm hats at discount stores such as TJ Maax, Marshalls or Ross for a fraction of the original retail price.
I recently bought a pretty awesome warm hat for $2 in Africa at a used clothing market!
In terms of gloves, I usually buy the cheapest pair of glove liners at Big 5 or REI and layer them with an outer thin shell or a warmer, thicker glove depending on my outdoor adventure.
Speaking of Big 5, they usually have better prices on water bladders, gloves, Nalgene containers, and stuff sacks compared to REI so it is worth a look if you are shopping around for these sort of items
I have only been able to find waterproof lightweight shells for my glove liners at REI but I have lots of warmer gloves (non waterproof) that go over my glove liners that I have purchased at discount retail stores.
I see no benefit in purchasing brand named hats and gloves at the full retail price as there are so many alternatives and these accessories will not make or break your outdoor experience. As long as you remember to bring gloves and hat, you will be just fine.
Purchasing sustainable clothing
Bright color clothing is always marked down

Clearance racks are magic

Search through your local thrift stores

Shop at bargain stores such as Nordstrom Rack, TJ Maax, Ross and Marshalls

REI garage sales are always an option

Buy clothing off season. Winter clothing is marked down in the warm seasons and vice versa.
In terms of outdoor clothing, I truly believe in buying what you can afford however it is important to remember that your shopping options are unlimited. For instance, I own a pretty impressive collection of North Face fleece jackets in all different colors ranging from shades of pink, yellow, green and black and those were all purchased for under $20 each. I have scored lots of these fleeces at Goodwill with the original tags attached and other fleece jackets at Nordstrom Rack. I usually have to go for the brighter, bolder colors since they are always on clearance or on the thrift store racks however wearing bright colors in an outdoor emergency allows you to be spotted by Search and Rescue. I also just so happen to have the palette for bright colors and to me, spending more money to wear black is silly, especially when you are sweating and rolling around in the dirt.  
The clothing industry is a pretty brutal and corrupt industry with fast fashion making most clothing items disposable only after a few wears which is not only bad for the environment but contributes to the unethical practices in sweat shops overseas. As a rule of thumb, I always try to purchase good quality clothing that will last me for years and if I can buy these clothing items second hand, that is even better for the environment. My thrift store finds are few and far between but rummaging through the REI garage sales or shopping at discount stores for bargain finds on good quality items are a sure way to prevent burning a hole through your wallet.
Outdoor clothes will get dirty so I can really careless what I wear, as long as its durable, weather proof, moisture wicking, comfortable and on sale.
REI hacks
REI garage sales are a great place to find gently used or brand new items that were returned for a discounted price. I personally hate lines and crowds so I rarely venture out to these big parking lot sales but when I do, I always have a game plan:
Do not go to an REI garage sale if you "just want to look around" because by the time you figure out what you want, there will be a lady hoarding 16 backpacks in a corner trying to figure out which one does not have a broken zipper.

You must know exactly what you are looking for, make a beeline for that section, asses everything in that section for tears, holes and malfunctions and make your decision before your time.is up. 

Also, some of the markdowns are not that steep and you can find better deals elsewhere so keep that in mind while you are trying to save your sanity at one of these monthly events.
REI garage is the golden ticket. The folks at REI enjoy confusing the general public especially when they renamed their online outlet to REI garage, not to be confused with the REI garage sales. Clear as mud, right? REI garage is the online REI outlet where you can find some killer deals all year around, especially during the big REI sales. I often buy my REI branded sock liners and Patagonia dry fit underwear from this site (when I do not purchase them at the big REI store sales) and have also purchased a pair of pink snowshoes for 70% off a few years back. I am currently in the market for a new stove as I keep breaking mine and I spotted quite a few markdowns on this site. Keep in mind; you do not get dividends when you buy any items on sale at REI.
REI store sales are good but avoid the crowds and shop online. There are usually 5 big REI sales each year (February, May, July, September, and November) with many big-ticket items marked at least 20% off. Members also receive two 20% off coupons for REI branded items specifically for the online outlet and for an in-store purchase. There are too many people in the stores during this time so I usually order a ton of stuff online, in a variety of sizes, and return what I do not like (returns in original boxes that are unworn go back on the shelf and are not thrown into the garage sales).
REI MasterCard rewards 5% back at REI and 1% back on everyday purchases. This card is great because there is no annual fee, you receive a $100 REI gift card when you sign up and you get 5% back on ALL purchases at REI, including sale items. On full-priced items, you get 15% back (including your 10% dividend) and this really adds up at the end of the year. I only use my REI credit card for purchases at REI since I have other credit cards that give me much more than 1% back on everyday purchases.
REI branded items are much cheaper and great quality. I actually prefer to buy the REI branded items and some of my favorite are REI sock liners, REI tents, and the REI foldable daypack. REI makes killer gear for a fraction of the price compared the other brands and often you can score a 20% off coupon for REI branded items if you ask around or attend an REI class.
Food (make your own)
Why is dehydrated backpacking food so expensive? Let's be honest most of this packaged dehydrated food tastes the same after 8 plus days on the trail but yet I find myself shoveling out $10-$12 for each packaged meal. Yes I prefer certain brands such as Backpackers Pantry and AlpineAire but even after awhile all the meals start blending together. I have lots of friends who dehydrate their own meals at home and they not only taste much better, and are healthier but this can save you hundreds of dollars each year and is one of the biggest money saving hacks. There are tons of online recipes for dehydrated backpacking meals but I have learned this method requires a lot of time, trial and error.  Although I love to cook, I am not yet patient enough to go down this avenue so I usually save money by doing the following:
Purchasing dehydrated meals without meat as they are a few dollars cheaper and still packed with protein (I am not much of a meat eater to begin with).
Occasionally substitute these freeze dried meals with ramen noodles and tuna packets (make sure to bring your own seasoning if you want to control your salt intake)
Be sure to grab extra condiment packets whenever you order takeout, or visit a fast food joint or gas station as these can add a lot of flavor to your meals on the trail. I may or may have a giant bag full of all different hot sauces from a variety of Mexican fast food joints.
I try to shop at local Asian supermarkets as they have some of the best instant noodles and soup options that are cheap and great for backpacking.
I stay away from individually packaged snacks as they are expensive and create more trash (have you seen how much the individually packaged olives are at REI?) and instead I buy my snacks in bulk (usually from the bins at Sprouts or Smart and Final) and divide them up into Ziploc bags (which I reuse).
When in doubt, peanut butter wrapped in a tortilla is cheap, filling and packed with protein.
Trader Joes also has some pretty amazing trail snacks.
In terms of electrolytes, I recently started purchasing my favorite gels in bulk online as I have found this saves quite a bit of money and prevents me from having to go back to REI before every big backpacking trip.
Online outdoor gear markets such as High Sierra Trading Post and BackCountry.com are great ways to save money on gear, however I have never personally ordered from thee sites but I have heard many great things from a large number of people.
Although I am sure there are a million more money saving hacks out there, these are the best ones that I have found that work for me but I am always looking to learn more! Please share if you have any great ways to save money on outdoor gear!
We want to acknowledge and thank the past, present, and future generations of all Native Nations and Indigenous Peoples whose ancestral lands we travel, explore, and play on. Always practice Leave No Trace ethics on your adventures and follow local regulations. Please explore responsibly!
Do you love the outdoors?
Yep, us too. That's why we send you the best local adventures, stories, and expert advice, right to your inbox.