Planning a trip to your favorite climbing destination? Get the knowledge you need to keep these special places intact for future generations of climbers.
Many of us are dreaming of feeling granite and basalt against our fingers rather than textured plastic. Call me crazy, but I can't help believing that climbing under a bluebird sky with the summer wind caressing my greasy hair is a huge step up from inhaling chalk dust in a warehouse filled with strangers. With that said, climbing at the nearest crag brings a whole new set of responsibilities, especially when it comes to being good stewards of these geologically desirable places. Here are the seven Leave No Trace (LNT) principles and how to follow them at your favorite climbing crag.
1. Plan Ahead and Prepare
Hoping to camp overnight? Not sure what the bathroom facilities will be like? Don't know what gear to bring?
Always, always, always research the place where you'll be going before you go. We can only be good stewards of the land if we know what to expect, and every place is different. Some climbing areas require us to pack out human waste, others require permits or specific pieces of gear. The Mountain Project is a great resource with loads of information, always do your research before you go.
2. Travel and Camp on Durable Surfaces
One of the unfortunate signs of a well-loved climbing area is a prevalence of social trails to different climbs. We should try as much as possible to stick to established trails, and if you aren't sure how to get to a specific climb don't be afraid to ask for directions. A lot of the environmental impact of climbing could be mitigated if we had better designated trails. The Access Fund does a great job of supporting efforts to make access to climbing areas more sustainable. Consider supporting their stewardship and conservation efforts here.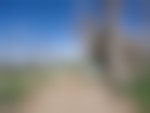 Camping at established campsites is best.

3. Dispose of Waste Properly
It goes without saying that we should pack out our granola bar wrappers. But what is the proper protocol when nature calls? The simple answer is "it depends." In some areas that see less traffic a cathole may be acceptable, but for more frequented areas disposing of ol' number two can be tricky. In Red Rocks, Wag Bags are provided for climbers, but we recommend bringing one along wherever you go climbing. It's a small way we can ensure that our crags stay as pristine as possible. Because it is supremely depressing to see a used piece of toilet paper blowing down the trail like a tumbleweed in the wind.
4. Leave what you Find
The practice of altering routes to make them climbable has largely gone out fashion, but some instances still crop up every once in awhile. While the intentional manipulation of a route is no longer common, we can still sometimes unintentionally alter routes, by pulling out a loose rock or popping off a loose hold. For safety reasons, never put your weight on a suspect hold before testing it. Avoid loose rock as much as possible, and be aware of the quality of rock in the area in which you are climbing.
5. Minimize Campfire Impacts
We all love having a giant bonfire with our climbing buddies after a solid day of climbing, but we must consider the long term impacts. Frequent campfires can deplete areas of fuel, and can permanently scar rocks and earth. We should always use established fire pits, keep our fires reasonably sized, and try to only gather dead wood that's already on the ground.
6. Respect Wildlife
Common sense and good judgement can go a long way. See an active bird nest on the wall you're about to climb? Perhaps save that route for another day. Lots of squirrels in the area? Make sure your snacks are well stowed in your pack.
7. Be Considerate of other Visitors
For some, a climbing outing is not just a fun weekend activity, but a powerful wilderness experience. For that we reason we should avoid blasting music, shouting profanities, or screaming excessively as we climb. It's just common courtesy.
What do you do to be a good steward of your favorite climbing area? What do you see others doing that makes your blood boil? Share below, and happy sending!
Published: March 3, 2017
Please respect the places you find on The Outbound Collective.
Always practice Leave No Trace ethics on your adventures. Be aware of local regulations and don't damage these amazing places for the sake of a photograph. Learn More
Do you love the outdoors?
Yep, us too. That's why we send you the best local adventures, stories, and expert advice, right to your inbox.