This trip feels like a lifetime ago and simultaneously only yesterday. It's the kind of trip that lures one into planning the next trip before the current one is even over. The kind of trip that grows one's affinity for the wild in a way that cannot be undone.
Zion. It was my first trip out west. I was completely unprepared for the grandeur of the American desert. The ancient formations of Navajo sandstone offer glimpses of a distant past; you can find petroglyphs if you know where to look. The towering red walls of the canyon converge with the sky as you strain your neck to gaze up. It is apparent where the rain escapes, because the red walls are stained black from the seeping water. There is promise of life in the hanging gardens that reside in the crevices above. As unprepared as I was for the beauty, I felt I was just as unprepared for camping in the desert, although you wouldn't know Zion is part of the desert in the canyon. Life flourishes as green as the eye can see.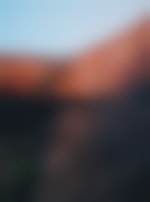 Growing up in the Eastern United States, where hills and mountains are painted in thick blankets of thriving forests, camping beneath the trees is something I'm used to. Camping in the desert was not, but I was determined to do it "right" and spend my time out west immersed in nature. Tent camping included. So, I booked our trip with a guide company in hopes of preventing myself from accidentally eating some kind of western berry that resulted in my untimely death.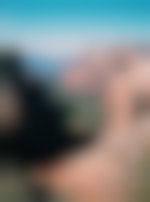 This trip feels like a lifetime ago and simultaneously only yesterday. It's the kind of trip that lures one into planning the next trip before the current one is even over. The kind of trip that grows one's affinity for the wild in a way that cannot be undone. It's not hard to figure out why the Anasazi and euro-Americans decided to inhabit Zion. The Virgin River cuts through Zion Canyon, a gorge where erosion from the river continues to sculpt the canyon walls. Named "the place of peace" by Mormon settlers, life in the gorge is luscious and green and is outlined by the towering deep red Temple of Sinawava.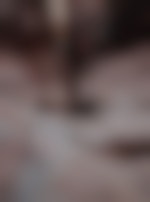 We hiked to the rim of the canyon via Observation Point Trail to the breathtaking, iconic view that Zion is known for. The hike up was exhausting. Parts of the trail seemed to go straight up vertically and I never thought we would reach the top. Other parts of the trail made my imagination soar. I imagined I was an astronaut who had landed on Mars as we zig-zagged though Echo Canyon. When we reached the rim, it was different than any other feeling I've ever had before. One of pure astonishment and disbelief. I feebly attempted to wrap my mind around a scene so marvelous. I decided then and there, that if standing upon the rim of Zion were to be the last thing I did, I would be satisfied.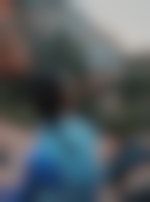 We had two backpacking guides and conglomerate of interesting people that joined us on our western adventure. A horse surgeon. An architect. Two millionaires (or so they told us) who kept insisting that we drink a terrible margarita mixer they bought from the local convenient store right before we entered the park. And a middle-aged single father who took quite a liking to my companion and jokingly called him "son." They quickly became the clowns of our group, yelling when they found animal feces. Their goofy guesses at what kind of animal expelled the pile of poop made everyone laugh.

The nights were chillier than I expected. Although I'd read about the cold desert nights in a school textbook when I was younger, but I was still surprised; probably because the astonishment of each one of Zion's breathtaking views I came across left me in a surprised state of mind. After miles and miles of hiking each day, the exhaustion that overwhelmed my body made me grateful for the slight chill in the air. It helped the dried sweat feel less sticky on my skin. "I want to do it right in the American West"…I obviously underestimated my love for baths. I had a slight tinge of humiliation when we boarded the plane back home after our adventure. A young child in the aisle across from us made a comment to his mother about our less than great smell. Her embarrassment was obvious as she mouthed sorry. Her quiet, but regretful acknowledgement subsided my own disconcertion.
The thing is, there are not many things that would make me choose to be miserable over hot showers and feeling well-rested. But, to spend time in the American West is one of those times I would choose misery.
Published: November 27, 2017
Please respect the places you find on The Outbound.
Always practice Leave No Trace ethics on your adventures. Be aware of local regulations and don't damage these amazing places for the sake of a photograph.
Our Hike to Angels Landing: Dangerous? Maybe. Amazing? Definitely.
Angels Landing, Utah
Three weeks before my sister turned 24 she texted me to ask if I wanted to go on a trip for her birthday. She wasn't sure where she wanted to go but she knew she wanted to be outdoors.
Southern California's Off-Season Gems: Mojave, Death Valley, Alabama Hills, and Joshua Tree
Joshua Tree National Park, California
It all started with a simple Google search. My buddy, Cameron, and I were procrastinating studying for our law school finals when we started daydreaming about a getaway.